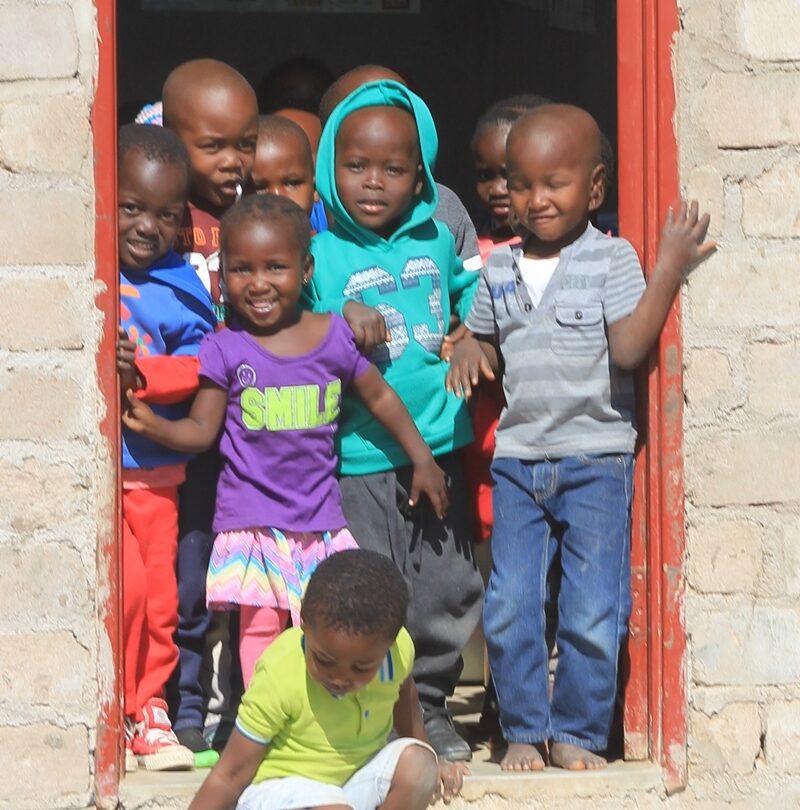 Pre-Schools Today, Active Community Members Tomorrow
If you're a woman in rural Venda in the Limpopo, the northern-most province in South Africa, then it's very likely you're the head of the family. You will spend your days busy with numerous tasks such as growing crops, trading in small goods, wild-harvesting foods such as baobab, marula, moringa and brown ivory fruits (munee), collecting firewood and water.
Often, your work will take you away from your village and then you have a dilemma: either you take your small children with you (not always practical or safe) or you leave them in the care of one or two other village women. This is how informal pre-schools are created.
Like all pre-schoolers, these very small children need nourishing food, a warm, clean and cosy place to nap, toys and safe play areas, however the reality in a typical Venda village is harshly different. Up to 50 children can be crammed into a tiny room with little more than a hard concrete floor, surrounded by dusty unfenced grounds and if they're lucky, an old car tyre to play with.
The village women who care for these children, do not have a background in early childhood development; as a result the young children are not properly prepared by the time they get to school-going age.
Dumbale Village: where small children have nowhere to go
Surrounded by baobab trees, Dambale is a picturesque village in rural Venda where over 95% of the approximately 4500 residents are unemployed and rely on subsistence agriculture, remittances, collecting wild foods and government grants for their livelihoods.
Led by chief Azwihangwisi Patrick Nedambale, the Dambale community does not have a pre-school for their 50-70 young children aged 1-6. All they currently have is 2 tiny rooms, no toilets, no kitchen and no resources at all for the children. The Baobab Foundation has decided to support the community by building a new pre-school from the ground up.
What We Need to Build a Pre-school
Dambale village is highly committed to creating a pre-school for their children! The premises for the new pre-school have already been identified by the chief and the community has elected a committee to oversee the building of the school.
Our first requirement is to build a fence to demarcate the area. This is so once we begin building, it becomes a safe construction site for delivery of building materials. A fence is needed to keep the children safely inside, while keeping animals – especially livestock such as goats and donkeys – out.
We're aiming to build three classrooms (including equipment such as tables, chairs, blankets, cupboards and so on) as well as a baby room for the very young children to sleep, a covered open-plan area for children to play and where they can eat their lunch. This area will provide shade as well as a protected area when it's raining. We'll need a kitchen (including equipment) store room and child-friendly toilets.
We're also going to need playground equipment, water tanks and signage.
Our total required budget is $16, 280.
This is where YOU come in!
We've already received a generous donation of $1000 from Protec Botanica which will go towards building the fence. EcoProducts will contribute their truck for collection and deliveries of materials and will project-manage the building.
We'd be so grateful for any contribution – large or small – towards this important social upliftment project. You'll receive our progress reports and updated photographs, get acknowledged in our blogs and on our social media posts which you'll be able to share on your own social media platforms, knowing that your donation has made a real difference in the lives of many people.
We're Aiming For Completion By November 2020!
The Baobab Foundation will model the Dambale Pre-school building on the building of pre-schools that we've successfully built for two other communities:
Zwigodini Pre-School (completed August 2017) Read the full story here
Tshikuyu Pre-school (completed March 2019) Read the full story here
We'd like to complete the Dambale Village Pre-school by November 2020 in time for the new school year in 2021 and we're inviting you to join us and Dambale Village in achieving this important goal.
The Baobab Foundation Has Big Dreams!
The Baobab Foundation is a Non-Profit Organisation set up to support the conservation of baobab trees and support rural communities in the baobab collection area of Venda. The Baobab Pre-school Programme is an initiative that identifies under-resourced pre-schools where baobab harvesters live.
Pre-School Support Programme
It's well known that children who receive adequate pre-schooling, are more prepared for formal schooling and have a far better chance of completing their education, going on to become contributing members of the community. Attending pre-school has been shown to break the poverty cycle – these rural children deserve proper care and preparation for their futures! The support provided by the Baobab Pre-school Programme is determined by the individual needs of each village and includes the following:
Play Resources
Educational toys, books, drawing materials are used for classes and to develop creativity and thinking skills. Swings and jungle gyms help children develop their gross-motor skills and provide enjoyment and fun while playing outside.
Equipment and Infrastructure
Children and teachers need chairs, tables, cupboards, blankets and lots more. Roofs, fences and windows need repairing, paint to liven up walls, toilets and classrooms are needed.
Early childhood development training
Carers or teachers require training in how to stimulate young minds and prepare them for primary school.
Achievements to date
Over the last four years, 6 pre-schools have received support from the Baobab Foundation. This has been in the form of educational toys, climbing frames, swings, clothes, food and building classrooms.
Our ultimate aim is to support at least one pre-school in each village where baobab fruit is harvested.
Thank you for being part of the Baobab Foundation community! If you'd like to make a contribution please visit our campaign page (click here) to make a hassle-free donation or contact me directly sarah@ecoproducts.co.za and I will send you our banking details.
Warm regards
Filed under: BAOBAB FOUNDATION, Pre-School Support
Tagged with: Baobab Foundation, Dambale Village, Preschool equipment for Venda village, Preschool Support, Rural Venda Villages, Tshikuyu Venda village